Mario and Luigi Take Over Tokyo and Our Top 5 Favorite Podcasts of the Year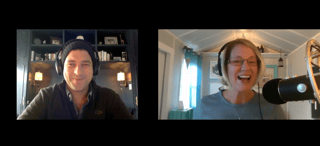 In this episode of the Yin and Yang Show, we take a walk down memory lane and share our favorite episodes of the year. But first, we celebrate the return of Brian Signorelli from his adventures in Asia! Apparently, on the streets of Tokyo, Mario and Luigi can be seen wizzing by in little go-carts, just like in the video game! It's a real thing there and they call it Mario Car
(so that they don't have the Mario Kart people after them for copyright infringement)
. Fun story!
Here are the 5 episodes we deemed our favorite of 2017
First up, we both selected the episode on collegiate vs street level social selling with Larry Levine.
He focused on the three key areas of your LinkedIn profile to pay attention to including:
* Value Proposition (where people generally list their title)
* Summary
* Work Experience

Next up, we reminisced about the episode with Angela O'Dowd from HubSpot where we chatted about MQLs, SQLs, Smarketing, and how Brian Sig felt spoiled as a rep for the HubSpot sales team due to the amazing efforts of the HubSpot marketing team.
A difficult subject for any marketer trying to bring the inbound methodology into a business environment, "buy-in" is always a huge issue.
Here are the top seven tips we chatted about for getting buy-in on inbound:
1. Talk about competitors
2. Do a free trial of HubSpot
3. Talk to counterparts and peers
4. Do an inbound marketing workshop for the main players at the company
5. Use the HubSpot website grader at https://website.grader.com/
6. Utilize free tools - using the HubSpot platform, the HubSpot LeadFlow tool, or another marketing automation platform is a great way to get started small and make the case with data. To make your case with data
7. Show me don't tell me. Bring the data to your decision maker.
We always love great guests and George B. Thomas from the Sales Lion is no exception! We conversed with Goerge about education when it comes to inbound and why it's so important to the success of your inbound strategy.
And we have to mention George's three main philosophies to live by:
* Be Human
* Be Happy
* Be Helpful
We had the renowned Trish Bertuzzi, author of The Sales Development Playbook, join us for an episode over the summer and wow was it an eye opener. Trish was able to get Brian thinking about how the world outside of inbound sales is functioning and how different sales methodologies are embraced and used in businesses large and small. He stepped outside the HubSpot bubble to discuss with Trish how the rest of the world thinks of sales and selling.
Watch this episode:
Or listen to this episode:
Keep Talking!