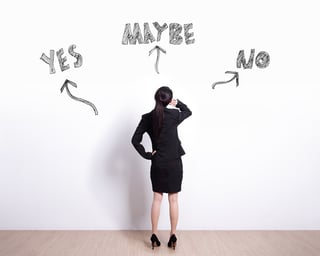 When the inbound marketing and sales conversation comes up in the office technology industry, traditional copier dealers don't always understand how inbound, or marketing automation, really work. VPs of sales and marketing directors are faced with convincing the president of the dealership that inbound is the best path to digital lead generation, but it's not as easy to do this as it might sound. I've been there. I failed miserably at selling the president of the dealership I worked at.
So this episode of The Yin and Yang Show is dedicated to how to get top level buy-in for inbound marketing and sales.
Here are the top seven tips for getting buy-in on inbound:
Do a free trial of HubSpot - just capture a couple leads and you're set. Showing the sales VP and dealership president the lead intelligence with the tracking ability can work wonders for buy-in.
Talk to counterparts within your CDA peers/ BTA, BPCA, etc and ask how inbound is working for them - it's all the buzz in the industry right now. If you want to know a few to call on, just email me. I can send you some names of other copier dealers using HubSpot.
Do an inbound marketing workshop for the main players at the company... it explains the why, including buyer behavior, and showcases the need to make a change in order to keep up with the buyer…. Or risk getting left behind. Not sure what an inbound workshop is? Here's a video of the introduction session to give you an idea.
Use the HubSpot website grader. Visit https://website.grader.com/ and enter in your URL to get your grade. Don't feel bad when it comes back low. Happens to most folks we run the test for.
Utilize free tools - using the HubSpot platform, the HubSpot LeadFlow tool, or another marketing automation platform is a great way to get started small and make the case with data.
Show me don't tell me. Bring the data to your decision maker. Just telling them about inbound sales and marketing won't do the job. Get data, whether that's from industry peers or the numbers HubSpot uses from their research team. https://research.hubspot.com/
Watch the Video:
Listen to the Audio:
Keep the conversation going!