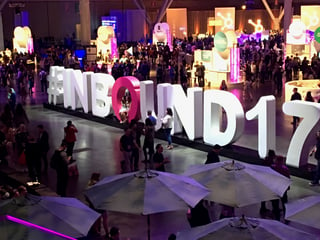 I'm fresh back from INBOUND17 and in this episode I'm sharing my favorite new features and functions HubSpot will be rolling out.

Sales Professional
What I loved about sales professional is the sequences tool, call recording tool, and insights into the prospects email opens. Coming in November, HubSpout is going to add in workflows, predictive lead scoring and smart notifications. It's a more robust CRM than when it first rolled out and just seems to get better and better. Sales reps rejoice!
FB Ads
Facebook Audience Sync allows you to sync a HubSpot list you have in your portal with Facebook so you can target that specific list with a specific ad. Leveraging the data you have in HubSpot, which has all the behavioral analysis of your visitors - you can now target them AND look alike Facebook users inside the Facebook platform.
Facebook audience sync highlights:
Hyper targeted messages and ads through facebook
Take smart list and turn on Facebook audience sync inside HubSpot and it allows you to target these folks whenever they're using Facebook
Create smart list and target your best customers inside of Facebook! And even better, you can create the Facebook ads inside of HubSpot!
Conversations
This is through the messaging app as well as wherever the customer wants to engage - that might be on your website or through Facebook messenger.
HubSpot Conversations
Every channel in one place - social and on website
Everyone on your team can join conversation when needed - they see full history
Now in HubSpot CRM free
AI
Motion .ai
ChatBots are a great way to answer real time questions for your website visitors…especially if you're not at the office at 2am. A chatbot can handle the question and properly route it internally for you. You can build out a series of responses based upon trigger words in the customer question and the bot can route the customer to the proper department for a deeper conversation.
HubSpot CMS - no more COS
First off the web evolves faster than we can keep up! HubSpot knows this and has been working on new advancements to the CMS make it more:
HubSpot CMS highlights:
It's 2x faster than the average North American CMS
Achievements - 99.999% uptime
More secure - standard SSL to all by default
Also, there will be a module you can insert into your HubSpot CMS site for Native site search in next few weeks.
What does this all mean? For inbound agencies, it means that we'll be able to offer our clients deeper integration with their prospects and customers online. With the disruption technology has caused to consumer's buying cycle, we need to make sure that we're meeting them in the places where they prefer spending time in their buying journey. HubSpot's suite of tools allows companies the opportunity to digitally journey with their customer though their buying process from start to finish, and beyond.
Watch the video:
Or listen to the audio: